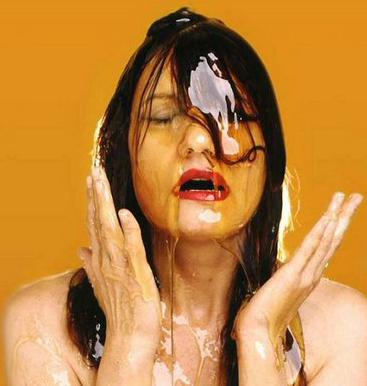 4 weeks after I see the film, Man On Wire, I have the great fortune of attending the Performance Space 122 benefit with my long-time friend, David Leslie.(aka "Daddy Leche" or "Dirty Pony", depending on your mood.) A renegade East Village performance artist since the mid-80's,  Leslie, became known as "the Impact Addict" since his stunt in which he jumped off a 3 story building while taped up in bubble wrap and Christmas lights.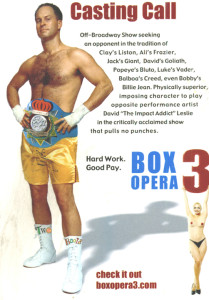 "I have been creating public spectacle as an artist/daredevil in the cultural arena of performance art in NYC art houses and club venues since the mid eighties. My addiction for art and adrenaline drove me to my first stunt in SOHO, when I attempted to fly a small single seat rocket over a mountain of watermelons. That night I almost broke my neck and was nearly burned alive in the flaming wreckage. I loved it. Throughout the mid to late eighties I offered up many outrageous acts and actions mostly in admiration, imitation and respect for of the men and women who inspired me. My over the top outrageous acts were in simpatico with a temperament that was pervasive in the East Village at that time."
Stay tuned this summer for an upcoming interview with the Impact Addict here in the LFlash blog. For now, read the NY Press article on David's Box Opera 3…
It is WEDNESDAY, MAY 27,  & David terrifyingly Vespas me across the East Village  to the PS-122 Spring Benefit: "Real Dancing with the Real Stars". Hosted by Isaac Miszrahi & Bebe Neuwirth, and attended by David's friend, artist, Karen Finley, etc. with performances by Bill T. Jones,(whom I just saw several days ago at the Yale graduation) and the extraordinary Philip Petit. The movie, Man on Wire follows the story of Petit, the tight-rope walker who traversed between the Twin Towers  in August of 1974.  Upon my introduction to the film six weeks ago, Petit became one of my greatest inspirations and fascinations primarily because of the metaphor he creates about transcending fear. It is a beautiful surprise when he appears to perform at the benefit, and then when I am introduced to him later in the evening.